The "Oxy-Vie" & "AED" Program 
( On a five year agreement )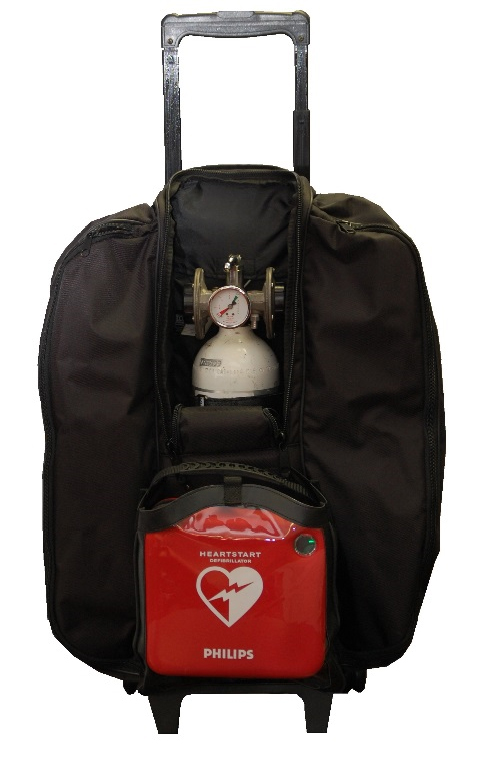 The SOS Technologies Oxygen Unit is the most advanced and reliable first responder device available in today's work place. Designed for its ease of operation, durability, and reliability, it is complete and ready to use the moment an emergency occurs!
Oxygen Therapy Course
Course Content:
The objective of this course is to train personnel to safely administer oxygen to patients in the workplace.
Topics will include:
    Airway anatomy & physiology
    Basic Airway Management
    Basic Respiratory Assessment
    Oxygen Cylinder Safety
    Knowledge and Application of Oxygen Delivery Devices
This is a two hour course for an unlimited number of candidates, which includes manuals and attestations.
& CPR / AED Course
Course Content:
Basic Anatomy & Physiology
Semi-automatic External Defibrillator (AED)
Cardiovascular Disease / Angina, Heart Attack & Stroke
Basic Life Support (Initial Assessment & Primary Survey)
Cardio-Pulmonary Resuscitation (CPR) & Defibrillation
1 Rescuer Adult/Child CPR Sequence
1 Rescuer Adult/Child CPR with AED Sequence
2 Rescuer Adult/Child CPR with AED Sequence
This is a four hour course for a maximum 12 candidates, which includes attestations.
Both courses are given every two years
Specifications:
•Unit Weight: Approximately 20 Pounds
•Unit Size: 27" X 7" X 19"
•Cylinder Capacity: Approximately 15 Cubic ft. of U.S.P. Oxygen (415 Liters) at 2015 psi.
•Philips OnSite AED with Adult electrodes and red carrying case
•Fast Response Kit : includes: pocket mask, scissors, gloves, razor, absorbent towel
•Unit Case: Cylinder and Regulator are protected by a nylon denier bag on wheels with back straps. Provides Space for storage of First Aid Supplies and Personal/Clean-up Equipment.
•Replacement parts.
•Can be Cart Wheeled for Ease of Mobility
Emergency Oxygen / AED Service & Maintenance:
•Semi-annual Inspections
•Regulatory Upgrades 
•Cylinder testing
•On-site Emergency Oxygen Replacement
•Lifetime Warranty
•Emergency Refills (24 hours' notice)
•Cylinder Labeling Compliance
•Regular Liter Flow Inspection
•High Pressure Safety Release Inspection
•Seal and Connections Inspection
•Unit Bag Examined and Inspected
•Cylinder Hydrostatic Testing Performed, if needed
Electrodes replaced every two years
Battery changed in the 4thyear